WHAT IS INTERNATIONAL WOMENS DAY?
Author: Prinja S
#IWD2017 International Women's Day is being celebrated worldwide which indicates the achievements of women in various fields like Political, Social & Economical. It also helps us to understand the Gender Equality.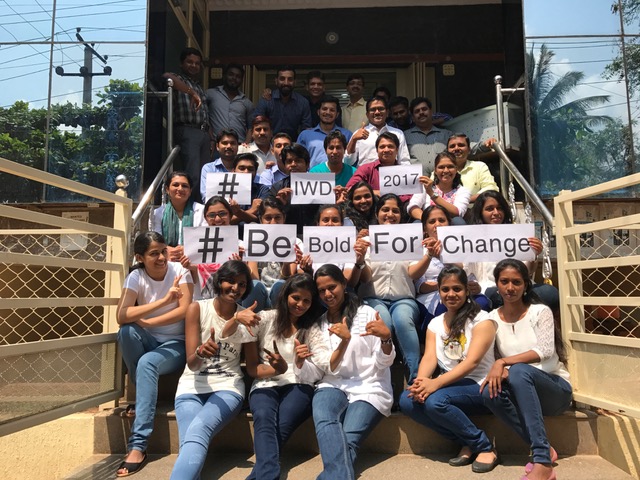 How it started?
It was started in the year 1908 when 1500 women's marched through New York city demanding their rights for voting, better pay & shorter working hours.
And later the first #IWD was conducted in U.S on February 28 & later in the year 1910 a women called Clara Zetkin leader of the 'Women's Office' for the Social Democratic Party in Germany identified the importance of #IWD & suggested every country to celebrate Women's Day every year to push up their demands.
In 1911 it was celebrated in Austria, Denmark, Germany & Switzerland on March 19.
In 1913 it was decided to celebrate #IWD on March 8 & it was celebrate on March 8 ever since.
So every year it has been celebrated to achieve complete Gender Equality, Women's Rights, Women's Education etc.,.
LET US KNOW ABOUT 2017 THEME FOR WOMEN ON WOMEN'S DAY, IT IS,
A Tweet by the Managing Director of Kimberlite Softwares for this International Women's Day
#BEBOLDFORCHANGE - #IWD2017
This is a worldwide campaign which is set globally for the year #IWD 2017.
The theme indicates that encouraging & appreciating women's to take ground break action on Gender Equality #BeBoldForChange.
How can women change her to be Bold in society? #BeBoldForChange
Women should have self confidence in her. Women should practice of having a bold confident mindset & create opportunities within her & learn how to get what she wants.
#BeBoldForChange. The below following aspects are required by a women to be bold.
Boldness is the opposition of Hesitation.
So whenever a woman is feeling hesitant in making a decision for her own self, she has to learn to swallow her pride & make the first move. #BeBoldForChange
Women's should be bold enough to do unexpected things in which she is interested with like Social, Economical & Political fields. Doing something new & unexpected might make afraid, but don't give up into those feelings, But remember one thing whatever you do be sure that you do it for yourself not for others.
Every woman individually has to identify their strengths & weakness within themselves & move beyond them. Don't try to hide your problems or failures but accept them as part of you & move forward confidentially appreciating your uniqueness. Be honest with yourself.
Even if women is not bold enough she should pretend herself to be bold. Your bold inspiration doesn't have to be real. You can even think of a character from a movie or books who is daring & brave. Then imagine their boldness in your life.
If someone asks you to do some something that you are not interested with, kindly refuse it saying No. It's not necessary that you have to do that work or give an explanation for saying No. This helps others to respect your honesty & boldness.
If women's aim to do something in her life Politically, Socially or Economically she has to finish it, its not enough to simply say we are doing, you have to actually do it. So this helps others to trust in you & look upon you as a bold & complicated person.
HOW KIMBERLITE IS EMPOWERING WOMEN?
In Kimberlite the empowerment of women is based on their skills & job qualities. It provides freedom to learn new skills & gain self-confidence. The inner qualities & strengths are been recognized & utilized. There is no boundaries created by an organization, they can make their own decisions so this gives freedom to perform on their work.
Discovers what each person to their best & find better ways to support each other this provides growing in their skills & convenient way of business & provides powerful ways for a women to grow.
It doesn't focus on talents, it focuses on their efforts, by praising efforts it encourages to learn & grow in their skills.
It also gives time to learn, time to experiment & time to manage their personal works.
If employee is best at their work & if their work is satisfied by the management then they get promoted to top positions.
There is gender equality & women's are respected more. It provides a safe working nature for women.
I can proudly tell that women's are more benefitted & safety is more concerned in Kimberlite for women's.